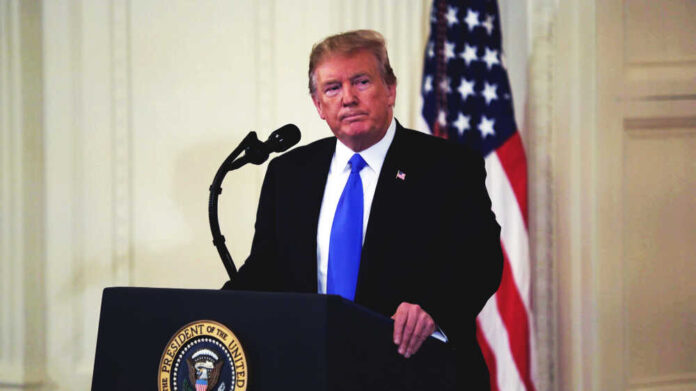 (DCWatchdog.com) A new poll has found that Donald Trump has lost support among voters in the key battleground state of Pennsylvania in a potential presidential election rematch against Joe Biden.
The latest survey released on Thursday by the Center for Opinion Research of Franklin & Marshall College established that Trump enjoys the support of 40% of Pennsylvania's voters.
However, Biden scored 42% support among those polled in the state, for a 2-point lead over his most likely competitor in the 2024 presidential election.
The previous survey by the same pollster in the state put the incumbent president's lead over Trump at one percentage point.
That poll, conducted in April, showed 35% support in Pennsylvania for the 45th president of the United States against 36% support for Biden.
Franklin & Marshall College's new public opinion survey in the Keystone State also found that 30% of Pennsylvania's voters now believe Biden is doing a "good" or "excellent" job in the White House.
That is an increase of 3 percentage points in Biden's approval in the state compared with the 27% registered in April.
Yet, Newsmax points out that the president's rating in Pennsylvania is lower compared with Trump's approval in the state at the same point in time of his presidency.
The Franklin & Marshall College survey also found that Trump's lead over Florida's Governor Ron DeSantis among Republican primary voters in Pennsylvania has grown to 18 percentage points, at 39%-21%.
The situation has thus worsened for DeSantis, as Trump's lead in Pennsylvania stood at 16 points in April.
"Notable is that the 18-point difference is one of the smallest gaps for DeSantis in any polling against Trump," comments the Newsmax report.
It is noted that the new Franklin & Marshall poll established the growing popularity of two 2024 Republican presidential nomination hopefuls who didn't even register in the April survey – entrepreneur Vivek Ramaswamy and Republican US Senator Tim Scott of South Carolina.
Ramaswamy scored the third spot in the state among Republican primary voters, at 9% backing, while Scott enjoyed 6% support.
The Franklin & Marshall College survey was performed from August 9-20 among 723 registered voters in Pennsylvania and has an error margin of 4.5%.
Former President Donald Trump has expanded his lead over Florida Gov. Ron DeSantis in Pennsylvania, according to a new poll released Thursday, but Trump has also dropped 1 point against President Joe Biden in the key battleground state. https://t.co/BFX9Tb627j

— NEWSMAX (@NEWSMAX) August 24, 2023