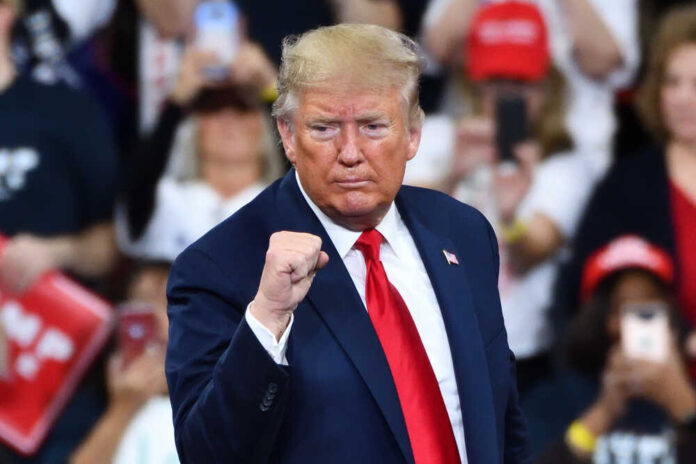 (DCWatchdog.com) – Marking a return to where it all began, Donald Trump made headlines by officially and personally registering for the New Hampshire presidential primary. This marks the second time he has done so in person, setting him apart as the first former president to file such paperwork more than once in person.
Eight years ago, he signed up for the 2016 contest on the very first day of the filing window. However, for the 2020 contest, he sent then-Vice President Mike Pence in his stead, which aligned with the practice of other incumbent presidents who typically send representatives.
During his recent visit, Trump left a clear message, writing, "Vote for Trump and solve your problems," on a poster that all candidates are encouraged to sign.
This time around, Trump's presence warranted heightened security measures. The campaign handpicked supporters to gather in the corridor leading to the secretary of state's office, and entry to the building was limited.
Candidates interested in the primary have until October 27 to register officially. The procedure is straightforward: they must satisfy the basic presidential requirements, complete a single-page document, and pay a $1,000 fee. The 2020 primary saw 33 Democrats and 17 Republicans participate. The record year was 1992, with 61 individuals on the ballot.
In previous New Hampshire primaries, Trump was on top for the Republican Party in 2016 and 2020. However, he did not secure the state's majority vote in the subsequent general elections.
When Trump first registered for the 2015 primary, some national surveys placed him behind Ben Carson. On that occasion, Trump highlighted his substantial personal wealth, recalling, "They wanted a cashier's check," and adding humorously, "So this is from a bank that's not actually as rich as we are."
This time, Trump emphasized his strong standing in current New Hampshire surveys. He mentioned the declining support for Florida Governor Ron DeDesantis, remarking, "Bad things are happening, but we keep going up."
However, Trump's actions didn't go without criticism. New Hampshire Democrats, in a recent press conference, expressed their reservations. Senator Maggie Hassan commented, "At a time when our country confronts significant problems at home and around the world… we need to be united. But Trump is incapable of bringing us together."