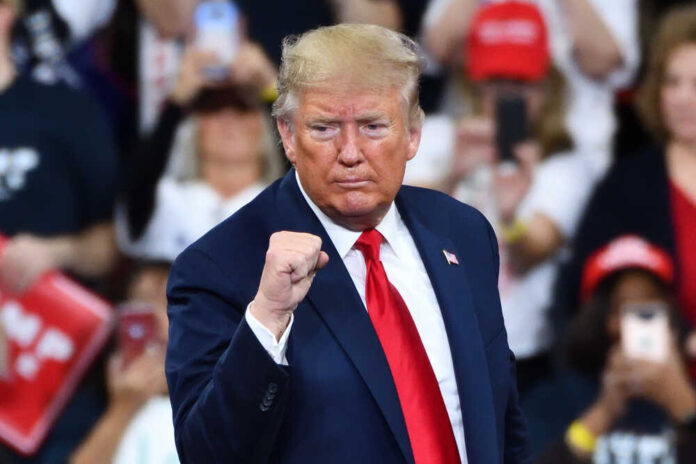 (DCWatchdog.com) – Donald Trump achieved a significant legal victory in one of the four indictments against him when a judge blocked the prosecutor's motion to try him next month.
The 45th president of the United States and 18 other defendants have been indicted by Fani Willis, the Democrat DA of Fulton County, Georgia, for allegedly trying to subvert the 2020 election in the state.
Willis had requested that the trials of all 19 defendants begin on October 23, 2023.
However, in a ruling on Thursday, Fulton County Superior Judge Scott McAfee ordered that only two defendants would be tried on that date – lawyers Sidney Powell and Kenneth Chesebro.
McAfee decided that the other 17 defendants, including Trump, would be tried separately, The Washington Times reports, describing his order as a "stunning legal loss" for Willis.
The judge declared that trying the defendants separately was a "procedural and logistical inevitability" and that even "additional divisions" could become necessary later.
While McAfee's one-page order did not specify another trial date for Trump and the 16 others, it stipulated a timeline for the indictment, indicating the trial could start in December at the earliest.
The judge also set the end of 2023 as the deadline for settling pretrial disputes with the 17 severed defendants, with discovery starting by October 6.
He also established December 1 as the deadline for filing pretrial motions but without scheduling a hearing for them, thus potentially postponing a trial till January 2024.
The Times points out that Willis had requested that all 19 cases be tried together to avoid straining the court's resources.
"Three or more simultaneous, high-profile trials would create a host of security issues and would create unavoidable burdens on witnesses and victims, who would be forced to testify three or more times on the same set of facts in the same case," the DA had argued in a filing.
Trump and the other defendants have pleaded not guilty to the racketeering and conspiracy charges they face in Georgia.
The report notes that while the former president wanted to put off his trial in the Peach State, "the delay complicates what will be a hectic 2024 for him in the courtroom and on the campaign trail."