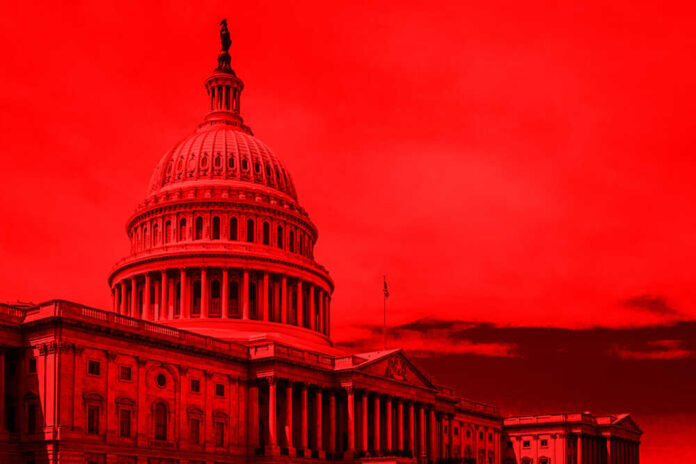 (DCWatchdog.com) – In a dreadful, dystopian view of pro-Islamist, pro-terrorist Third World rallies brought to the capital of the Land of the Brave and the Home of the Free, thousands of backers of Palestinian Arab terrorists and enemies of Israel overran Washington DC and descended upon the White House.
Tens of thousands of individuals espousing pro-Palestinian sentiments congregated in Washington, DC, this past Saturday, subsequently proceeding to the White House with slogans such as "Allahu akbar" and disparaging remarks about President Joe Biden.
They leveled accusations of genocide against the president and vociferously called for a halt to hostilities in the Gaza Strip.
On October 7, the Hamas and Islamic Jihad terrorist groups sadistically massacred over 1,400 people in Israel, among them 30 Americans.
Israel has defended itself by going after the terrorists in the Gaza Strip, the small but crowded enclave controlled by Hamas since 2005. This has left Muslims and leftists worldwide to stage mass anti-Semitic rallies, often demanding the total destruction of the Jewish State.
Saturday's rally in DC began with participants, many brandishing Palestinian flags and placards, proclaiming, "From the river to the sea, Palestine will be free," a slogan standing for a call for Israel's obliteration.
In a display of defiance, others took up the cry, "Long live the Intifada," referencing past Palestinian uprisings, with recollections of the significant casualties sustained during the conflicts between 1987-1993 and 2000-2005.
The extent of the turnout remains uncertain, with unofficial estimates suggesting the presence of over 100,000 participants, although the DC Police, when consulted, abstained from offering a crowd size estimation. Some X profiles claimed up to 300,000 participants.
Disorder emerged around 5:30 p.m., resulting in one individual being detained for property damage, though his actions remain unclear.
The march proceeded along DC streets, halting at the White House, where protestors urged President Biden, who was at his vacation home in Rehoboth Beach, Delaware, to advocate for a ceasefire.
Close to 6:30 p.m., red paint was daubed on the White House gates amidst chants, and one protestor daringly climbed the security fencing to wave a Palestinian flag, as captured on video.
Observation of the event from above was reported by users witnessing DC Police helicopters encircling the White House.
Among the sea of demonstrators, which included public figures such as rapper Macklemore, chants echoed through the streets from the early afternoon.
Earlier, a solitary supporter of Israel draped in the national flag was discreetly escorted away from the site by police, a scene shared by a social media user.
The protest concluded rapidly, dissipating by 8 p.m., with only signs and stickers left at the fence, silent testaments to the day's fervor for President Biden to witness.
Hard to imagine an independent voter watching this and thinking, I'm with them. https://t.co/2miwoW5LfK

— Richard Goldberg (@rich_goldberg) November 5, 2023