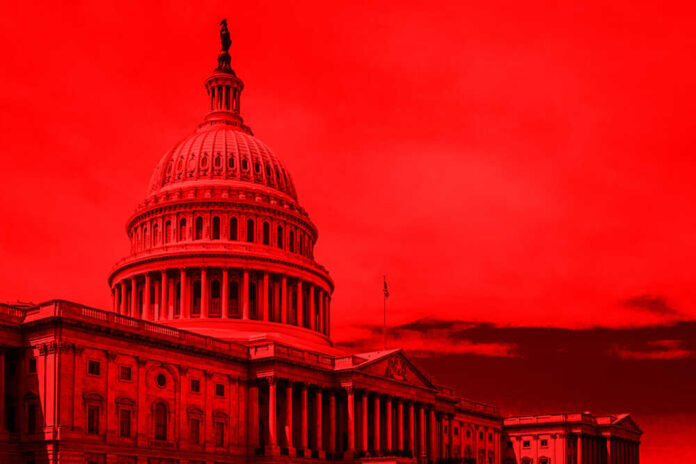 (DCWatchdog.com) – With Congress reconvening after the August recess, hard-line members of the GOP majority in the House of Representatives are eager to engage the Democrats to defeat them in critical political battles.
Many Republicans are literally "itching for fights" – such as launching impeachment proceedings against Joe Biden and achieving significant spending cuts, including by utilizing a government shutdown, according to a report by The Hill.
The article claims, however, that the GOP hardliners are seeking to beat down not just the Democrats but also other Republicans who are less willing to tackle ferociously the party's political enemies.
According to the report, the situation poses a substantial challenge to House Speaker Kevin McCarthy (R-CA), who seeks unity for the Republican conference.
"I'm tired of all these Republicans hiding behind, 'Oh, but they'll say it's a shutdown. And they'll say that you're defunding law enforcement with [the Department of Homeland Security].' That is all bullshit," declared Rep. Chip Roy (R-TX) from the House Freedom Caucus.
"The truth is we're using the power that we were given to force change because you don't pay people not to do their job," he added.
According to the report, even lawmakers widely deemed allies of Speaker McCarthy are now "putting the pressure on him."
Among those is US Rep. Marjorie Taylor Greene (R-GA), who has now suggested she would refuse funding to the federal government if the House doesn't start impeachment proceedings into Biden.
US Rep. Matt Gaetz (R-FL) has gone even further by making it clear he might force a vote on deposing McCarthy if the latter didn't support probes into Biden and other high-profile Democrats.
"[I]f Speaker McCarthy stands in our way, he may not have the job long," Gaetz declared on X.
The report notes that the eagerness of GOP hardliners to engage in more severe battles comes just as Congress has "precious little time to reach a funding deal" and avoid a government shutdown.
More precisely, Congress will have only days in session after the House reconvenes on Tuesday to meet the end-of-the-month deadline.