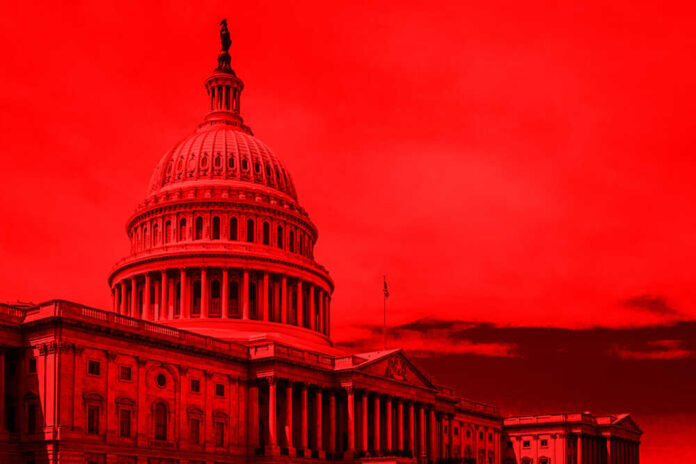 (DCWatchdog.com) – An anti-American radical-left congresswoman has finally been slapped with a rightfully deserved, though hardly sufficient punishment, as the US House of Representatives has voted to "censure" Rep. Rashida Tlaib over her "calling for the destruction" of US ally Israel.
The House of Representatives voted on Tuesday, resulting in the censure of Tlaib (D-MI), one of the eight members of the far-left "Squad."
The censure was for her calls for the dismantling of Israel and for purportedly propagating misleading narratives about the events of October 7, when Palestinian Islamist terrorist group Hamas attacked the Jewish State and massacred over 1,400 people.
"I'm the only Palestinian-American serving in Congress. My perspective is needed here now more than ever," the radical leftist asserted while defending herself on the House floor.
The censure motion, initiated by US Rep. Richard McCormick (R-GA), was approved with a vote tally of 234 to 188, National Review reports.
A faction of 22 Democrats supported the censure of Tlaib, while four Republicans opposed it. Additionally, one Democrat and three Republicans abstained.
"Representative Rashida Tlaib, within 24 hours of the October 7 barbaric attack on Jewish citizens of the State of Israel, representing the deadliest day for Jews since the Holocaust, defended the brutal rapes, murders, be-headings, and kidnapping – including of Americans – by Hamas as justified 'resistance' to the 'apartheid state,'" reads the resolution censuring Tlaib.
"Representative Tlaib published on social media a video containing the phrase 'from the river to the sea,' which is widely recognized as a genocidal call to violence to destroy the State of Israel and its people to replace it with a Palestinian state extending from the Jordan River to the Mediterranean Sea," the resolution continues.
"[She] doubled down on this call to violence by falsely describing 'from the river to the sea' as 'an aspirational call for freedom, human rights, and peaceful coexistence' despite it clearly entailing Israel's destruction and denial of its fundamental right to exist," the censure motion explains further.
Tlaib sought to counter the accusations by arguing that she was targeting Israel's government, not the Jewish people, and by showing a photo of her grandmother, who lives in the Palestinian West Bank.
"My criticism has always been of the Israeli government and [Prime Minister Benjamin] Netanyahu's actions… The idea that criticizing the government of Israel is antisemitic sets a very dangerous precedent," the Squad member asserted.