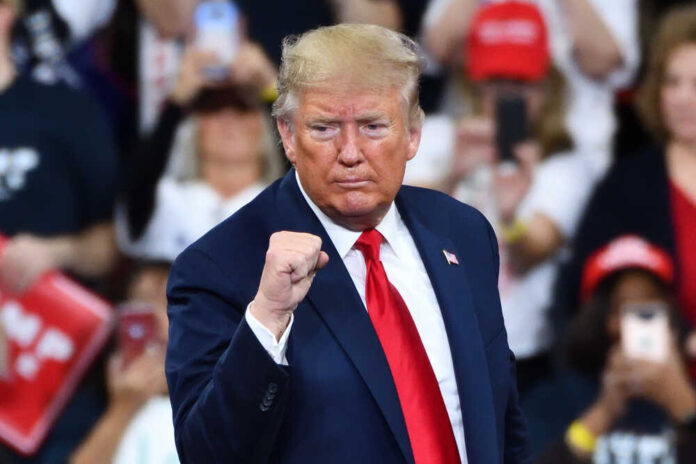 (DCWatchdog.com) – Donald Trump, the current frontrunner for the 2024 GOP presidential nomination, used a wide-ranging interview with a mainstream media outlet to go on offense and attack the Biden administration for its "banana republic indictments" against him.
You can watch a portion of the interview further down this post.
In an hour-long interview Sunday for the NBC News program "Meet the Press," the former president slammed President Joe Biden and the Democrats with what he called "the Biden indictments" as "corrupt people."
Trump faces four Democrat-led indictments, including two federal ones – over his alleged mishandling of classified documents and attempt to overturn the 2020 election.
Manhattan's DA has also indicted him over alleged hush money payments to a porn actress and by a DA in Georgia for reportedly trying to subvert the 2020 vote in the state.
"These are banana republic indictments. These are Third World indictments," the former president told Kristen Welker, the program's new host.
"I'm facing four Biden indictments. He told the Justice Department to 'indict him,' or [Attorney General] Merrick Garland said, 'Let's indict him.' They indicted their political opponent," he added, as cited by The Washington Times.
Trump said he could have pardoned himself on his last day in office, which would have saved him "all of these lawyers and all of these charges, these Biden indictments." However, he decided against it, arguing it would "look terrible."
"These people [going after me] are thugs, horrible people, fascists, Marxists, sick people… [These] are all Biden indictments, political. They indicted, they want to arrest their political opponents. Only Third-World countries do that, banana republics," the 45th president of the United States elaborated.
During the interview, Welker asked whether he worried he would go to jail due to the indictments.
"No, I don't. Not really. I don't even think about it. I'm built a little differently, I guess, because I've had people come to me and say, 'How do you do it, sir?' I don't even think about it," Trump said.
"These are corrupt people that I'm dealing with. They are destroying our country. I don't even think about it. All I think about is making the country great, making America great," he added.
Here is a portion of the interview: