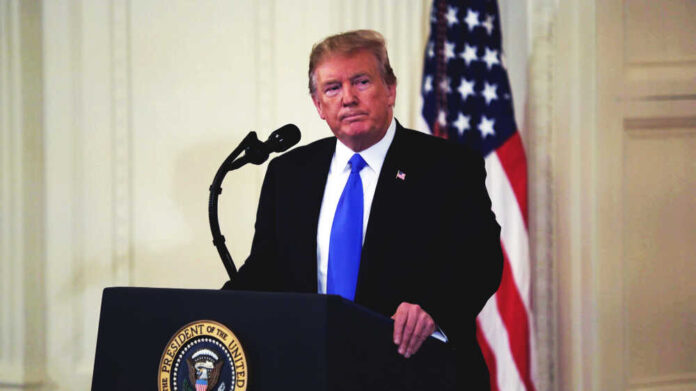 (DCWatchdog.com) – Snubbing his 2024 GOP presidential nomination rivals, Donald Trump plans to skip the second GOP primary debate, heading instead to speak with striking auto workers.
The former president, who leads the rest of the GOP presidential bidders by dozens of points in the polls, decided to be the big no-show in the first Republican primary debate last month. He argued that it made no sense for him to partake, considering his lead in the polls.
Trump has now also decided to skip the second Republican debate next week and travel instead to Detroit to give a speech before current and former union auto workers, CNBC informs.
His decision was first reported by The New York Times and later confirmed by a spokesman of his campaign.
The 45th president of the United States decided to speak in Detroit after last week, thousands of United Auto Workers members began a strike at three factories after a deal with carmakers fell through.
According to an unnamed campaign source, Trump would speak before 500 labor union attendees, including autoworkers and representatives of the plumbers, pipefitters, and electricians.
Because of his plans, some allies of President Joe Biden fear that he "outmaneuvering them" on the auto workers strike, according to a Politico report cited by National Review.
It notes that United Auto Workers is yet to endorse Biden for reelection after supporting him in 2020.
"AUTOWORKERS, VOTE FOR TRUMP – I'LL MAKE YOU VICTORIOUS & RICH," Trump wrote in a recent Truth Social post.
"IF YOUR 'LEADERS' WON'T ENDORSE ME, VOTE THEM OUT OF OFFICE, NOW. WITH THE DEMOCRATS & CROOKED JOE CALLING THE SHOTS, YOU'LL BE JOBLESS & PENNILESS WITHIN 4 YEARS. REMEMBER, BIDEN IS A CROOK WHO HAS BEEN PAID MILLIONS OF DOLLARS BY CHINA, & OTHERS. He is a Manchurian Candidate!!!" he elaborated.
However, the leadership of UAW has reacted strongly to the news of the former president's travel plans.
"Every fiber of our union is being poured into fighting the billionaire class and an economy that enriches people like Donald Trump at the expense of workers," UAW President Shawn Fain declared in a statement.
"We can't keep electing billionaires and millionaires that don't have any understanding what it is like to live paycheck to paycheck and struggle to get by and expecting them to solve the problems of the working class," said the union leader who previously called Trump's possible White House comeback a "disaster."