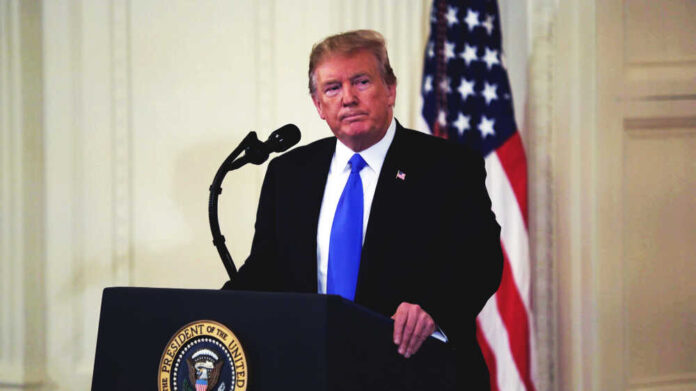 (DCWatchdog.com) – Donald Trump took a new blow during his $250 million civil fraud trial in NYC as the judge issued a partial gag order against the 2024 Republican presidential frontrunner over a social media post.
On Tuesday, during the second day in the trial brought against Trump by New York's Democrat Attorney General, Letitia James, Manhattan Supreme Court Judge Arthur Engoron announced a limited gag order, The New York Post reports.
His order came after earlier, the former president posted on social media a photo of Engoron's principal law clerk, Allison Greenfield, posing together with the Democrat Senate Majority Leader Chuck Schumer (D-NY).
"Schumer's girlfriend, Allison R. Greenfield, is running this case against me. How disgraceful! This case should be dismissed immediately!!" Trump wrote on Truth Social before noon on Tuesday.
He reiterated that comment before reporters outside the Manhattan courtroom.
The day before, the former president had already stated that Greenfield "hates Trump" and "should not be allowed to be in his ear on every single question."
After Tuesday's lunch break, Engoron threatened severe sanctions if his gag order was ignored.
"This morning, one of the defendants posted to a social media account a disparaging, untrue post about a member of my staff," the judge declared.
"Consider this a gag order. Personal attacks of my staff are inappropriate and I won't tolerate them," he added.
"Yesterday, I warned counsel of this and it was disregarded. Failure to abide by this directive will result in serious sanctions – I will be very clear," Engoron elaborated, as cited by The Daily Caller.
Trump's Truth Social post disappeared from his profile later on Tuesday.
"Although I have since ordered the post to be deleted, it has been mailed out to millions of others," the judge said.
A spokeswoman for Senator Chuck Schumer denied Trump's accusations about Greenfield as "ridiculous, absurd, and false."
"As is well known, Sen. Schumer attends countless events in every corner of the state where tens of thousands of constituents take photos with him, just like this one, which was taken at a stop at an annual brunch in Manhattan," the Senate Majority Leader's aide said.
The NYP points out that Engoron involves his clerks in his work "more than the typical judge does," including using them in oral arguments.
President Trump is fed up:

"This trial is a rigged trial. You saw what was just put out about Schumer and the principal clerk — that is disgraceful." pic.twitter.com/DlKhRwVa9c

— Citizen Free Press (@CitizenFreePres) October 3, 2023