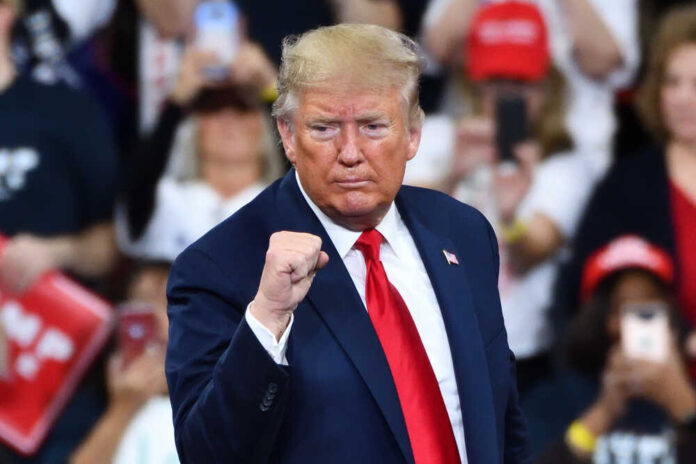 (DCWatchdog.com) – An outraged chorus has erupted among Republican members of Congress after Donald Trump announced he would most likely be indicted in several days over January 6, 2021, events at the US Capitol.
You can watch a video of Congresswoman Marjorie Taylor Greene supporting Trump at the bottom of this post.
On Tuesday, Trump announced he had received a "target letter" from the office of US Justice Department Special Counsel Jack Smith informing him he would be targeted in the latter's January 6 investigation for allegedly trying to overturn the 2020 election.
The former president revealed he was asked to appear before a grand jury in four days, which probably means that "deranged" Special Counsel Smith would indict him.
"Nothing like this has ever happened in our Country before, or even close…THIS WITCH HUNT IS ALL ABOUT ELECTION INTERFERENCE AND A COMPLETE AND TOTAL POLITICAL WEAPONIZATION OF LAW ENFORCEMENT! It is a very sad and dark period for our Nation!" Trump wrote on Truth Social.
He was indicted twice in the past three months – by Smith in the DOJ classified documents probe and by Manhattan's Democrat DA on financial crime charges.
Trump's announcement immediately caused multiple congressional Republicans to speak out in his defense, condemning Biden's DOJ.
"President Trump just increased his lead in the polls. So what does the Biden Administration do next? Weaponize government to go after President Biden's number one opponent. This is not equal justice. It's wrong, and the American public is tired of it," House Speaker Kevin McCarthy (R-CA) said, as cited by Breitbart News.
"It's absolute bullshit. That's the only way the Democrats have to beat President Trump," Rep. Marjorie Taylor Greene (R-GA) reacted.
"Joe Biden's Department of Justice continues to target his leading political opponents for the White House," stated GOP House Conference Chair Elise Stefanik (R-NY), calling a likely indictment "unprecedented" and a "corrupt witch hunt."
"If President Trump is going to be indicted for his speeches before January 6th, then when is Senator @BernieSanders going to be indicted for his speeches that led to the attempted murder of Steve Scalise and other Republicans?" Rep. Byron Donalds (R-FL) asked on Twitter.
"STAND WITH TRUMP!!… These people will deeply regret this when Trump is BACK in the White House!!" Rep. Ronny Jackson (R-TX) tweeted.
Here is the video:
"It's absolute bullshit."

— Rep. Marjorie Taylor Greene (R-GA) reacts to Trump claiming he is a target in the DoJ's January 6th investigation. pic.twitter.com/lPv6XIKKAx

— The Recount (@therecount) July 18, 2023