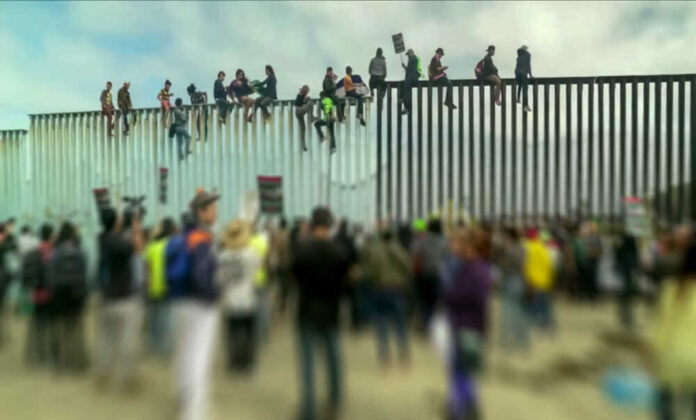 (DCWatchdog.com) – In the latest episode of Democrat hypocrisy, New York's governor has bemoaned the influx of massive numbers of illegal aliens into her state, telling incoming migrants to go someplace else instead.
In a CNN interview last week, Governor Kathy Hochul claimed that New York had exceeded its "capacity" to accommodate more asylum seekers.
"If you're going to leave your country, go somewhere else," Hochul told illegal immigrants eyeing New York, as cited by The Hill.
"We have to let the word out that when you come to New York, we're not going to have any more hotel rooms; we don't have [the] capacity. We have to also message properly that we're at our limit," she declared.
The report notes that the governor has officially petitioned the Biden administration for greater federal aid to house illegal immigrants.
However, the White House has refused the request, stating that the extra funding must come from Congress.
Hochul's call upon illegal migrants to pick other US states for settling came amid a continuing surge in border jumpers. More than 7 million, including 2 million gotaways, have crossed the Southern Border since Joe Biden became president.
Meanwhile, the administration of Texas' Republican Governor Greg Abbott just bussed new groups of illegal immigrants to New York City, The New York Post reports.
On Friday, Abbott chartered NYC-bound buses from Del Rio and Eagle Pass in continuation of his policy to take illegal aliens to Democrat-run "sanctuary cities."
"Until President Biden upholds his constitutional duty to secure America's southern border, Texas will continue to deploy as many buses as needed to relieve the strain caused by the surge of illegal crossings," the Texas governor declared in a statement.
Abbott's press secretary, Andrew Mahaleris, later reacted to the New York governor's comments by stating, "The hypocrisy of Governor Hochul is astounding."
"With millions of residents, New York is only dealing with a fraction of what our small border communities deal with on a day-to-day basis. Instead of complaining about 14,000 migrants being bused to New York City from Texas, Governor Hochul should be calling out her party leader, President Biden," the Texas official said.
JUST IN: New York Democrat Gov. Kathy Hochul to migrants: "If you're going to leave your country, go somewhere else. We don't have capacity" in New York. WATCH pic.twitter.com/p27Sy2SkNY

— Simon Ateba (@simonateba) September 21, 2023