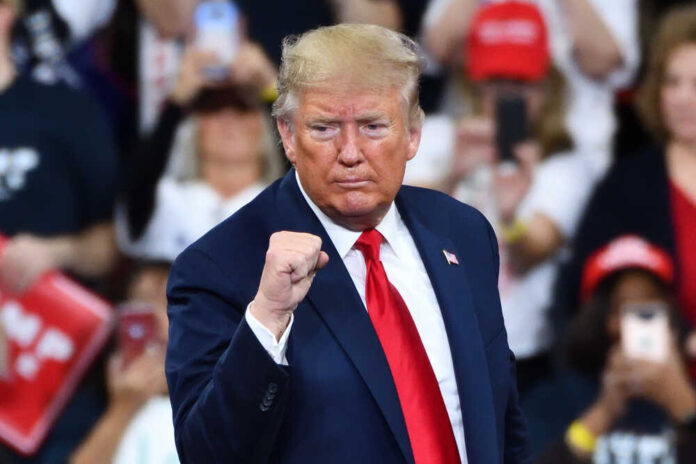 (DCWatchdog.com) – According to poll experts, Donald Trump, the former U.S. President, is demonstrating a strong early lead in his unique third attempt to win the presidency.
This Republican primary is extraordinary due to several factors: Trump's significant poll lead, his contest against his former Vice President, and his legal entanglements with two federal indictments.
"This GOP primary is truly unprecedented… Republican voters seem to be treating [Trump] as at least a quasi-incumbent," shared Kyle Kondik, a neutral polling analyst. Kondik suggests the large number of candidates makes it tough for any non-Trump individual to gather non-Trump supporters.
Trump's legal issues add another twist. Though these issues could potentially lead to GOP "fatigue," current indicators suggest no significant loss in Trump's support. The former president faces two indictments: one for allegedly falsifying business records and another for alleged Espionage Act violation and associated charges.
Jon McHenry, another GOP polling analyst, agrees on the uniqueness of this primary. Trump's transformation of the party to a populist organization and his legal troubles, particularly the New York charges, appear to have rallied the Republicans back to the former president's side.
The RealClearPolitics (RCP) and FiveThirtyEight data show Trump leading the GOP field by over 30 points in key early primary states. The only other candidate reaching double digits is Florida Gov. Ron DeSantis, at 20.9%. Former Vice President Mike Pence trails at 6.1%. This dominance in the polls distinguishes the current primary from the 2015 and 2011 primaries, where there wasn't a clear frontrunner.
Despite the unusual circumstances, Nathan Klein, pollster for OnMessage Inc., sees the deviation from the norm positively. "The one thing Americans, and especially the GOP primary electorate, don't want is to do things the way they have been done," he shared.
John McLaughlin, a pollster associated with Trump's campaign, attributes Trump's poll lead to President Joe Biden's administration's actions and points out it's "historic" that Trump is leading Biden in general election matchups. "Compared to Trump's success — on the economy, on national security, on the border and other issues — Biden's failures are glaring," McLaughlin added.