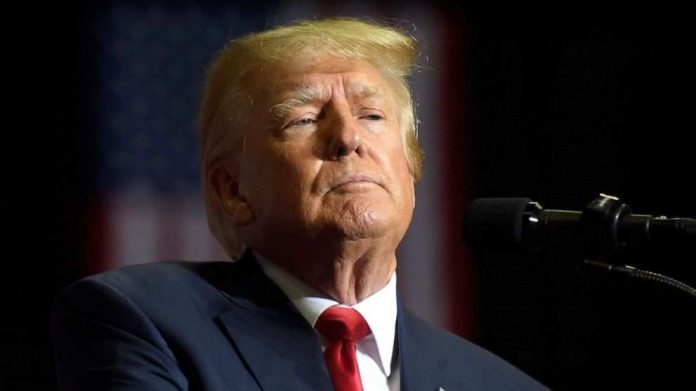 (DCWatchdog.com) – Donald Trump has filed a $500 million lawsuit against Michael Cohen, his former lawyer, who claims that he bribed a porn actress in 2016 on the former president's behalf.
Trump's lawsuit against Cohen is revealed by a filing in a Florida court from Wednesday, according to a source "familiar with" the former president's legal team quoted by Newsmax.
News of Trump suing his former lawyer comes after last week when the 45th president of the United States was charged with 34 felony counts of business crimes at the initiative of Manhattan's Democrat District Attorney, Alvin Bragg.
Bragg claims that the former president committed falsified financial documents to conceal a reimbursement for Cohen after the latter allegedly gave $130,000 as "hush money" to porn actress Stormy Daniels who claims she had an affair with Trump in 2006.
Cohen had testified before the Manhattan grand jury that indicted Trump at Bragg's request.
However, the report points out that Trump's $500 million lawsuit against Michael Cohen is unrelated to the Manhattan DA's 34-count indictment of Trump for falsifying financial papers.
Instead, POTUS 45 is suing his former lawyer for "compensatory, incidental, actual, and punitive losses."
"This is an action arising from multiple breaches of fiduciary duty, unjust enrichment, conversion, and breaches of contract by virtue of past service as employee and attorney," the lawsuit reads.
In it, Trump accuses Michael Cohen of revealing his "confidences" and "spreading falsehoods" in various ways, including in books, podcasts, and media interviews, violating the attorney-client relationship.
The lawsuit points out that in his 2020 book "Disloyal," Cohen incorrectly called Trump "racist" and made up conversations with the then-US president.
"The timing of Disloyal's release, just prior to the No. 3, 2020 Presidential Election, suggests that Defendant intended to improperly disclose Plaintiff's confidences when it would be most lucrative to do so — and while Disloyal would be sure to have the most damaging reputational effect," the lawsuit elaborates.
Cohen was initially an executive at Trump's real estate corporation and later became his personal lawyer before the latter entered the White House in January 2017.
The same year, Cohen declared he would "do anything" to protect the president but later turned on him.
"I am ashamed because I know what Mr. Trump is. He is a racist. He is a con man. He is a cheat," Cohen told a US congressional committee in a 2019 testimony.
In 2018, Cohen was sentenced to three years in prison after he pleaded guilty to violating federal election law by making a $130,000 payment to porn star Stormy Daniels. He also pleaded guilty to other crimes, such as cheating on his taxes and lying to Congress under oath about when the Trump Organization ended work on a proposed construction development in Russia.
Former President Donald Trump, who is now charged with falsifying Trump Organization records to hide Cohen's reimbursement, has denied having had an affair with Stormy Daniels.