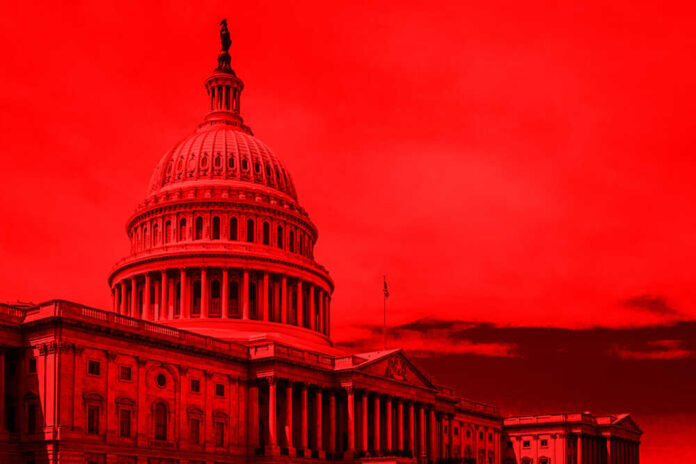 (DCWatchdog.com) – House Republican members have convened behind closed doors for their first meeting since eight other Republicans joined forces with House Democrats to dethrone Kevin McCarthy from the speakership.
According to sources, this meeting primarily served as an opportunity for members to vent their frustrations about the current state of the GOP, which now finds itself leaderless and facing legislative gridlock.
The urgency to elect a new speaker has grown in recent days, fueled by the recent cross-border attack by the terrorist group Hamas on Israel.
Against this backdrop of chaos on Capitol Hill, some members are advocating for a rule change requiring a speaker candidate to secure votes from 217 House GOP members within the conference before proceeding to an official floor vote in the House chamber. The objective is to avoid a recurrence of the protracted 15-ballot battle that McCarthy faced during the speaker election in January.
The House GOP conference is slated to reconvene in the Ways and Means Committee room for an official candidate forum to choose a new speaker. An internal vote within the House GOP is scheduled next.
However, neither House Majority Leader Steve Scalise nor House Judiciary Chairman Jim Jordan, the only officially declared candidates at this stage, has emerged as a clear frontrunner. There is a significant possibility that neither candidate will secure a decisive lead.
In a twist, some supporters of McCarthy are suggesting his renomination for his previous role, potentially prolonging the process. McCarthy, who had initially stated he would not seek the speakership again, is now hinting at the possibility of a return. He remarked, "Look, the conference has to make that decision."
However, those who previously voted for McCarthy's removal are standing firm in their stance. Representative Nancy Mace, a Republican from South Carolina, asserted that the decision to remove McCarthy was the most popular action taken by Congress during his tenure as speaker. She cited a CBS News poll indicating that McCarthy's removal enjoys widespread support among Americans.
Sources close to other members who voted against McCarthy's leadership suggest that after publicly aligning with Democrats to oust McCarthy, the likelihood of them rallying behind him again is slim. Nevertheless, the unpredictable nature of Capitol Hill politics leaves room for unexpected developments.