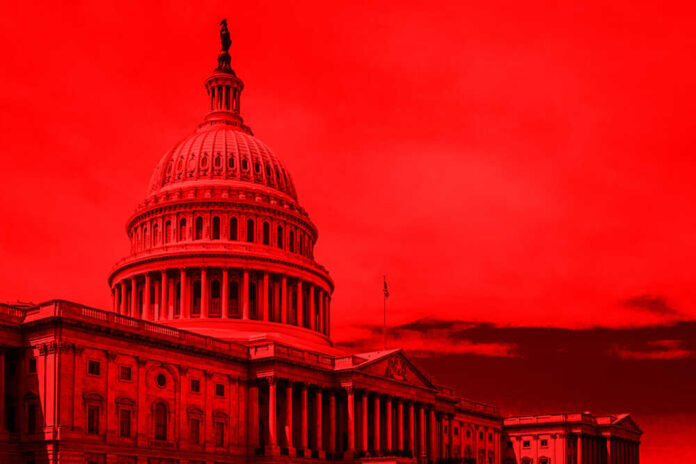 (DCWatchdog.com) – The fate of GOP United States House of Representatives Speaker Kevin McCarthy is now entirely in the hands of the Democrats, who have a "big political decision" after another Republican, U.S. Rep. Matt Gaetz, filed a motion to depose him.
On Monday, Gaetz (R-FL) made good on his previous vow to file a motion to vacate against McCarthy after, on Saturday, the speaker supported a last-minute bipartisan spending law to avert a government shutdown.
You can see a video of Gaetz's remarks further down this post.
"House members on both sides of the aisle are being thrust into the second historic Speakership battle in a year," The Hill writes in a report on the bid to dethrone a speaker whose election in January took 15 rounds of voting.
It points out that Gaetz's motion to vacate against a sitting House speaker is only the third such case in history, after two such unsuccessful attempts – in 1910, against Speaker Joe Cannon (R-IL), and in 2015, against Speaker John Boehner (R-OH).
In his comments to reports after filing the motion, the Florida Republican said he would mind if the Democrats decided to rescue McCarthy's job – but if that happened, he would not be a GOP speaker anymore.
"If the Democrats want to own Kevin McCarthy, they can have it. Because one thing I'm at peace with is when we stand here a week from now, I won't own Kevin McCarthy anymore. He won't belong to me. So if the Democrats want to adopt him, they can adopt him," Gaetz stated.
The report notes at least three House Republicans – Reps. Andy Biggs (R-AZ), Eli Crane (R-AZ), and Bob Good (R-VA) – have declared they are likely to vote against McCarthy.
Several Republican ballots against the speak could be enough to remove him in a House where the GOP holds a 221-212 majority.
The Hill describes the stance of the Democrats on the issue as "the wildcard" that would determine if McCarthy would survive as speaker.
At the same time, other "hardline conservative" House Republicans, who in January were among the 20 GOP representatives refusing to elect McCarthy, now say they support him.
Those include Byron Donalds (R-Fla.) and Chip Roy (R-Texas).
"I think it's a major distraction. It's going to take all of the focus away from appropriations," Donalds told Sean Hannity's radio show on Monday.
JUST IN: Representative Matt Gaetz speaks out after he files motion to vacate against Speaker Kevin McCarthy, says Democrats can adopt him if they want.

"If the Democrats want to own Kevin McCarthy, they can have it."

"Because one thing I'm at peace with is when we stand here a… pic.twitter.com/2B5q8PgXtO

— Collin Rugg (@CollinRugg) October 3, 2023