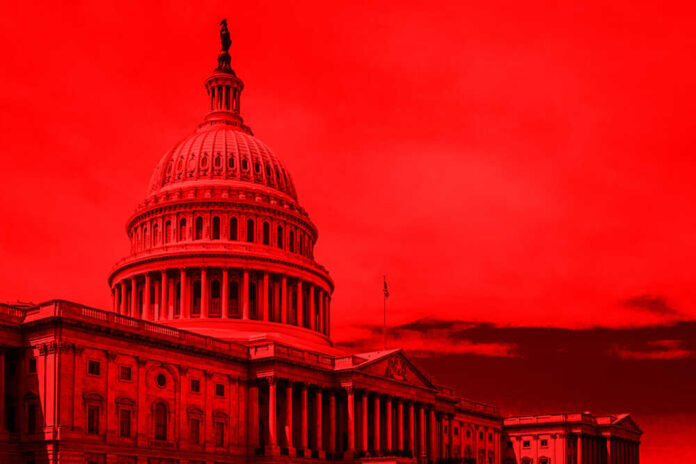 (DCWatchdog.com) – Dozens of Republican lawmakers have launched a major onslaught against Joe Biden's climate change policy excesses, seeking to kill off a natural gas tax passed last year by the Democrats as part of the president's monstrous, ironically named "Inflation Reduction Act."
A group of GOP legislators has formally requested the newly elected Speaker of the House of Representatives, Mike Johnson (R-FL), and Senate Minority Leader, Mitch McConnell (R-KY), to help revoke an emissions reduction measure from the Inflation Reduction Act (IRA).
This appeal was made in a letter led by Rep. August Pfluger (R-TX) leaked by The Daily Caller.
Pfluger and other notable Republicans like Reps. Dan Crenshaw of Texas, Byron Donalds of Florida, and Jeff Duncan of South Carolina call for the elimination of the IRA's Methane Emissions Reduction Program (MERP).
They argue that the natural gas tax introduced by MERP should be repealed before the end of the year.
"If implemented, the ill-conceived natural gas tax will handicap technological innovation, reduce supplies of affordable energy, and increase both costs and emissions. In order to lower costs for American families, we must repeal burdensome regulation, secure supply chains and unleash American energy," the Republicans argue.
The MERP mandates a tax on emissions exceeding 25,000 annual tons of carbon dioxide or a comparable amount of pollution. Starting in 2024, companies will be obligated to pay a fee of $900 for every metric ton over the 25,000 limit, escalating to $1,200 per additional metric ton in 2025 and then $1,500 per ton from 2026 onwards.
"The Methane Emissions Reduction Program provides significant resources to states and stakeholders to reduce releases of harmful methane pollution, particularly in overburdened communities, to protect public health and slow the rate of climate change," said an EPA spokesperson defending the program.
The GOP letter indicates that the EPA aims to modify that section of the Act to expand the reach and financial implications of the MERP.
"New fees or taxes on energy companies will raise costs for consumers, creating a burden that will fall most heavily on lower-income Americans," the GOP letter warns.
"In fact, this tax alone will drive up the cost of household energy bills for the 180 million Americans and 5.5 million businesses that rely on natural gas. At a time of persistent inflation and record energy prices, this increase is unthinkable for consumers," the Republican concluded.