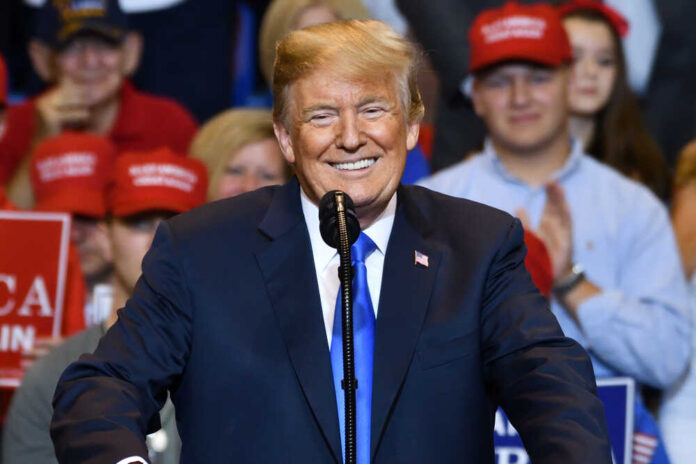 (DCWatchdog.com) – BREAKING NOW: Just moments ago, the latest NBC News poll was released, and it indicates that despite his recent indictment on federal criminal charges, former President Donald Trump skyrocketed ahead of Florida Governor Ron DeSantis and other Republicans in the presidential race.
Still, half of the Republican voters are open to considering another candidate, creating an opportunity for another contender.
The survey shows that Trump's popularity has not waned amongst Republicans despite his legal troubles.
As Bill McInturff, a Republican pollster involved in the survey, stated, "For the first time in history, a former president has been indicted, and we can't find a marker in this survey that it's had an impact with his standing."
According to the poll, 51% of national Republican voters would choose Trump as their first pick for the 2024 GOP presidential nominee, trailed by 22% for DeSantis and lesser numbers for other candidates like Mike Pence and Chris Christie. [emphasis added]
While Trump has a strong hold on Republican voters, the general electorate is more concerned about him due to his indictment. Over half of all registered voters and 55% of independent voters are apprehensive about him. Also, in a hypothetical election matchup between Trump and current President Joe Biden, Biden leads by 4 points.
The poll, conducted from June 16-20, reveals a growing lead for Trump in the GOP field, even after being indicted by a federal grand jury for mishandling classified documents.
Interestingly, many Republican voters don't seem too worried about Trump's legal troubles. About 77% of GOP voters state that the charges give them minor concerns (14%) or no real concerns at all (63%). Furthermore, 64% believe that the legal challenges Trump faces are politically motivated.
However, there is a split in the Republican party. About half of the primary voters, 49%, believe Trump should continue as the party's leader. The remaining 50% are open to considering other leaders, with 21% of these voters acknowledging Trump's past success but ready for a new face and 29% desiring a leader with better personal conduct.
Despite the divide, McInturff points out that Trump's 49% is a strong start, especially in a field with many contenders. He also added that the upcoming nominating contests could potentially shift the dynamics of the race.
THIS IS A BREAKING NEWS ITEM FROM THE DC WATCHDOG.