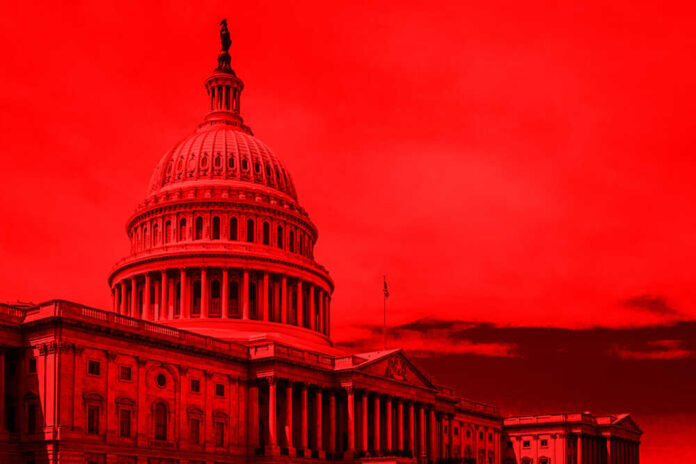 (DCWatchdog.com) – Displaying a level of moral integrity that has become a rarity on the left, a Democrat US Congressman has quit a far-left group that organized a shocking New York City rally supporting the Palestinian terrorist group Hamas and celebrating its recent massacres of civilians in Israel.
You can see a video clip of the disturbing rally further down this post.
Last weekend, Hamas and its smaller and even more radical Islamist terrorist sister group, Islamic Jihad, succeeded in butchering over 1,200 people in Southern Israel, including 14 Americans.
The anti-Israeli and anti-Jewish violence was supported by a mass radical-left rally in Times Square on Sunday organized by the NYC chapter of the Democratic Socialists of America (DSA), a far-left Socialist group.
In a statement posted on X on Wednesday, freshman Democrat US Rep. Shri Thanedar announced he had quit DSA because of its full-fledged support for Palestinian terrorism.
"After the brutal terrorist attacks on Israel, which included the indiscriminate murder, rape, and kidnapping of innocent men, women, and children, I can no longer associate with an organization unwilling to call out terrorism in all its forms," Thanedar (D-MI) stated.
"Sunday's hate filled and antisemitic rally in New York City, promoted by the NYC-DSA, makes it impossible for me to continue my affiliation. I stand with Israel and it's right to defend itself. There is no place for moral equivocation in the face of unadulterated evil as we have seen from Hamas," declared the first-term congressman.
Thanedar, born in India and became a US citizen in 1988, said his decision to renounce his DSA membership was in the best interest of his constituents.
Other Democrat figures who condemned the pro-Hamas rally include House Minority Leader Hakeem Jeffries (D-NY), New York Governor Kathy Hochul, NYC Mayor Eric Adams, and even two members of the far-left "Squad," – Reps. Alexandria Ocasio-Cortez and Jamaal Bowman.
The Times Square demonstration featured swastika images and a burning of an Israeli flag, among other anti-Jewish acts, The New York Post points out in a report.
On Tuesday, DSA NYC put out a "tepid apology" for its role in promoting the rally but didn't denounce the Palestinian terrorists.
"No amount of violence, deprivation, or collective punishment will make everyday Palestinians and Israelis safe," its statement declared.
The Post stresses that Thanedar's decision to quit the DSA "was in stark contrast to" declarations by Rep. Rashida Tlaib, another Michigan Democrat, who blasted Israel as an "apartheid state."
JUST IN: BLM/Antifa members in New York at today's 'All Out For Palestine' demonstration in Times Square after Hamas launched terror arracks against Israelis chanting:

"There is only one solution, Intifada revolution!"

"Resistance is justified, when people are colonized!"

The… pic.twitter.com/YoRPK4GnGW

— I Meme Therefore I Am 🇺🇸 (@ImMeme0) October 8, 2023