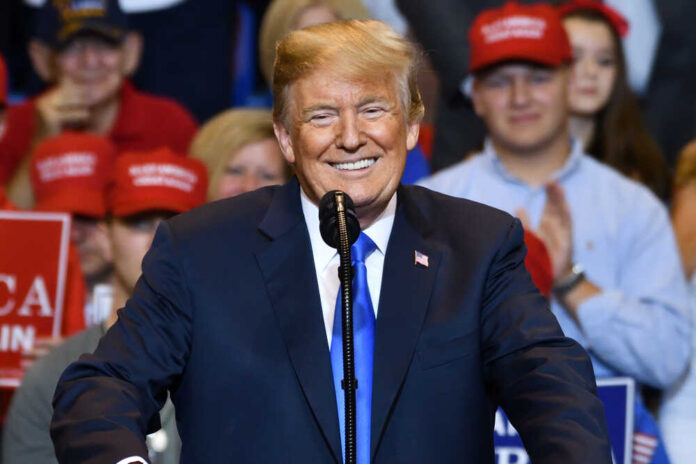 (DCWatchdog.com) – Donald Trump received a huge win and significant endorsement in his 2024 GOP presidential nomination bid after Michigan's entire Republican Congressional Delegation declared support for him.
Michigan is a critical battleground state in national elections. It has 13 members in the US House of Representatives. In the current Congress, six are Republicans, and seven are Democrats.
In 2016, Trump became the first Republican in nearly three decades to win Michigan, a Democrat fortress.
Trump's third White House candidacy was endorsed in a joint statement of Republican US Reps. Tim Walberg, Bill Huizenga, John Moolenaar, Jack Bergman, and Lisa McClain.
"We're proud to announce our full endorsement of President Donald J. Trump," the Republican US lawmakers from Michigan declared, as cited by The Daily Caller.
"Under the Trump presidency, America was prosperous, the economy was strong, the world was a safer place, and Michiganders were better off," they said.
"President Trump has proven he has the ability to deliver results on Day One and also the ability to win in key battleground states like Michigan, being the only Republican to win a Presidential race here since 1988," the GOP legislators emphasized.
They pointed out that Trump's White House term saw positive developments with respect to several major infrastructure projects relevant to the well-being of Michigan's citizens. Those include allocating extra funds to protect the Great Lakes and building a new lock at Soo Locks.
"President Biden has wrecked our economy, let our position as the sole world power slip, and opened our borders. Biden's policies have been particularly detrimental to Michigan's middle class," US Rep. John James declared in the release.
He stressed that inflation was only 2% while Trump was in the White House.
"The American family was strengthened through the child tax credit and other pro-family policies." Trump's leadership also made communities "more secure," he said.
He argued that the 45th president of the United States would "rebuild a great American economy, unleash domestic energy, secure our border, and make America safe again."
"In 2024, we need to give hope to Americans who feel like their government is failing them," James concluded.
Trump received a slew of endorsements https://t.co/VPHZgY3T31

— Daily Caller (@DailyCaller) July 12, 2023